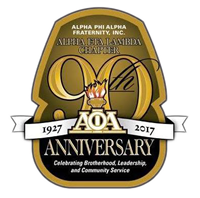 Hyatt Regency Houston Hotel
1200 Louisiana
Houston, TX 77002
July 7, 2018 at 11:30am
If you are only going to one event this year..
Then I urge you to attend the 90th Anniversary Celebration. This will no doubt be the event of the year.  You will be pleased and happy that you did not miss this event.

Absolutely stunning...
Alpha Eta Lambda is one of the best chapters of Alpha Phi Alpha. After 90 years of service they have reached a milestone.  90 years, WOW!